VoiceThread is a collaborative Web 2.0 tool allowing users to create, share, and comment on images, websites, documents, and videos.
To add VoiceThread to your Blackboard course you first will need the tool inside your course. In the Course Management section, go to Customization, then select Tool Availability.
Scroll down to VoiceThread and make sure it is checked.
Next, add your VoiceThread to an existing content area or create one if an appropriate area is not already available.

Add Content Area
Make sure Edit Mode is toggled to ON.
Click the Add Menu Item

icon.

Select Content Area.
Name the Content Area VoiceThread or whatever is relevant to your course content.  Make sure to check Available to Users, then click Submit.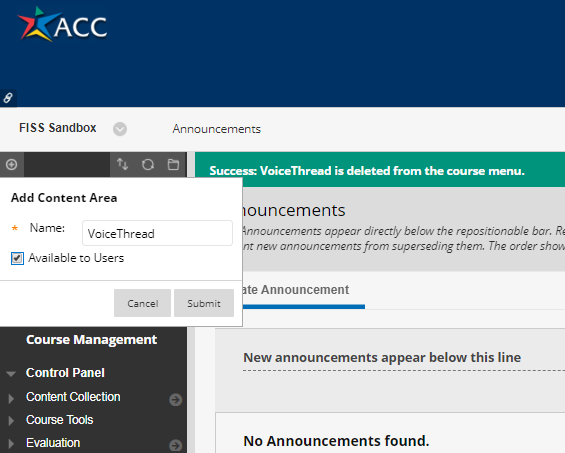 Now the VoiceThread Content Area appears in the navigation pane.
Open the VoiceThread Content Area.
Click the Build Content tab.
Select VoiceThread from the Create column in the drop-down menu.
Once the VoiceThread link has been successfully added to your Content Area, select and edit any relevant options within the Configure Tool (description, personal data, custom parameters, services, groups). After customizing the VoiceThread options, click Submit.

The Content Area will refresh, with the VoiceThread link added below.

Click the new VoiceThread link to open the application within Blackboard. Initially, login information will need to be provided. Once logged in, the VoiceThread Setup menu will appear as below.
Select Individual VT from the VoiceThread Setup screen and either choose a preexisting VoiceThread file or create one anew. The existing file, Beagle Project, is selected below.
Once selected, click Share with Class, then click Return to Course.
Now, when you or your students click the VoiceThread link, your presentation opens.
Contact Support
This article was created and is maintained by the Office of Academic Technology.
If you have found an error in this article or if you need assistance incorporating this article in your course, please contact the Faculty Instructional Support Specialists.