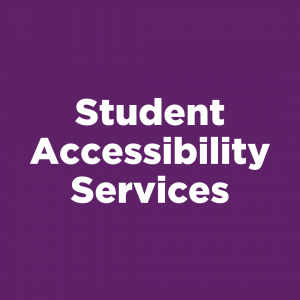 Spring 2021 Accessibility Webinars
January 28, 2021
SAS will be hosting spring webinars through the Association of Higher Education and Disability (AHEAD) that may be of interest to faculty.
If you are interested in attending the following opportunities, please email Dr. Lauren Sebel at Lsebel@austincc.edu for more information.
Note: Times are listed in Eastern Time.
Writing Effective Alternative Text for Educational Content: Best Practices for Reducing Cognitive Load
Thursday, February 4, 2021, 3:00-4:00 PM Eastern Time
Valerie Morrison, Center for Inclusive Design & Innovation
Writing alternative text for images can be a complex and subjective experience. Finding the balance between providing too much and too little information is key for creating your own alt text and for guiding faculty in adding alt text to their instructional materials. This webinar will walk through the basics of how to approach alternative text writing for educational content when being thorough, informative, and clear are paramount. Best practices for reducing cognitive load and identifying the kinds of details that should be included to provide access to photographs, charts, infographics, and diagrams will be shared.
Training Faculty to Create an Accessible and Inclusive Virtual Classroom
Tuesday, February 16, 2021, 3:00-4:30 PM Eastern Time
Ian B. Kunkes, M.S., Virginia Commonwealth University
Since the start of the pandemic, faculty and staff have been asked to convert many courses and programs to fit a virtual and hybrid model. For many, the task has been nearly insurmountable. Ensuring accessibility and inclusion has taken a back seat to basic logistical demands. However, now is an ideal time for disability resource professionals to leverage the work we have been doing in this area long before the COVID-era and teach colleagues how to design courses, syllabi, and programs in a manner that ensures the highest level of accessibility, inclusion, and impact. This webinar will help you support your institutional colleagues as they approach this daunting, yet critical task. Based on well-established best practices and direct feedback from 100+ students with disabilities, university faculty, and administrators who experienced the transition to virtual learning over the past year, we will offer tips and insights you can share with your campus partners. These will include basics of accessibility in the virtual space, Universal Design for Learning (UDL) principles for inclusion, and designing syllabi and courses that include all students.
Normalizing Adaptive Technology in the Classroom
Thursday, February 25, 2021, 3:00-4:00 PM Eastern Time
Sidney Fletcher, University of North Carolina at Greensboro
This webinar looks at the shift to normalizing the use of adaptive technology in the classroom for all students, but especially for those with disabilities. We will draw upon principles of Universal Design for Learning while educating faculty about the holistic benefits of promoting and encouraging the acceptance of adaptive technology in the classroom setting. Specifically, we will aim to connect philosophy, framework, and implementation of practices focused on accessibility, inclusion, and diversity to support the learning development process of all students.
Mobile Supports for the Diverse Learner – The iPad Edition
Tuesday March 9, 2021, 3:00-4:30 PM Eastern Time
Mark Coppin, North Dakota State University
When our colleges and universities went fully on-line last March in response to the pandemic, most (if not all) classroom materials were delivered digitally. The availability of digital formats provided valuable flexibility for delivering educational content in a variety of ways. However, it also made it glaringly apparent that, in addition to accessible materials, students need to address a variety of executive functioning issues: organizational skills, planning and prioritization, self-monitoring, and task initiation. Fortunately, most students have access to mobile devices and use them to access curriculum and complete assignments. We must leverage those devices by both customizing them and using their built-in accessibility features to support diverse learners. In this webinar, we will cover the accessibility features available on the iPad and apps that students and educators can use to support student success. We'll cover apps for note-taking, organization, optical character recognition, text-to-speech, captioning, writing supports, reading supports, and much more.
Online Test Proctoring Systems: An Exploration of the Options
Tuesday, March 30, 2021, 3:00-4:30 PM Eastern Time
Moderator: Dawn Hunziker, University of Arizona
While online testing has been popular for some time, the pandemic has kicked the practice into high gear and ensured that it's here to stay. With this new reality, a major challenge for both faculty and disability resource professionals is identifying testing practices that are both accessible and secure, often using online test proctoring tools. Respondus, Proctorio, Honor Lock, Examity, and other proctoring tools offer different levels of accessibility and various strengths and limitations. Join our panel of experts to explore a variety of online proctoring tools, their strengths, limitations, and the workarounds that support students who use assistive technologies.
Disability Rights in a Pandemic – Maintaining Compliance and Inclusion
Thursday, April 8, 2021; 3:00-4:30 PM Eastern Time
Eve Hill, Brown, J.D., Goldstein & Levy LLC
Jennifer Mathis, J.D., Bazelon Center
Introduced by Paul Grossman, Hastings School of Law
The pandemic has changed higher education dramatically in the past year. It has also changed the landscape for college students with disabilities. This session will explore how the Americans with Disabilities Act applies under these changed circumstances – from admissions to online learning to exams to graduation requirements – whether they be temporary or permanent. Join us to learn more about higher education's responsibility to students with mental health conditions and how disability resource offices can respond to issues of access and inclusion for these students as our institutions continue to evolve in response to the new "normal."
Fostering Better Teaching and Learning for Students with Disabilities
Tuesday, April 20, 2020, 3:00-4:30 PM Eastern Time
Wendy Harbour, The National Center for College Students with Disabilities, AHEAD
In this webinar, we will discuss innovative ways campuses and disability resource offices (DROs) can support faculty in their work with students who have disabilities – in and out of the classroom. In addition to exploring strategies for enhancing the DRO/faculty relationship and collaborating with administrators and faculty development centers, the webinar will introduce a new online faculty training resource from the National Center for College Students with Disabilities. There will be time for questions and an opportunity for participants to share ideas that have worked for them.
Full and Flexible Participation of Students with Psychological Disabilities
Thursday, April 22, 2021; 3:00-4:30 PM Eastern Time
Jane M. Castillon, University of California at Santa Barbara
Jennifer Lofthus, J.D., University of California at Santa Barbara
Disability resource offices are seeing a rapid expansion of students requesting services based on psychological conditions. The impact requires service professionals to innovate processes, adjust communication strategies, and consider standards for determining reasonable modifications that do not fundamentally alter courses. Existing frameworks inform best practices for communication with faculty and campus stakeholders and center the intersection of course design and disability as both social justice priorities and an ADA mandate. However, differentiating between qualifying for complex accommodation and implementing them and oppositional attitudes can strain our capacity to ensure access. In this webinar, we will discuss the characteristics often associated with psychological conditions that may warrant participation modification, accommodation decision-making, and the balance between reasonable accommodation and fundamental alteration.
Strategies for Prioritizing Access and Disability on Your Campus
Thursday, April 29, 2021; 3:00-4:30 PM Eastern Time
Amanda Kraus, University of Arizona
When disability resource professionals get together, the following phrases are often part of the conversation: Access is never brought to the table; Disability is always forgotten; No one cares about access; My office is under resourced and no one will listen. While these sentiments can be harmful to progress and self-sabotaging, they may also feel and even be true. Join us for a discussion of what you can do to impact the way your campus administration views access and disability to the benefit of your work.