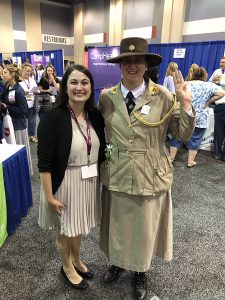 Teaching & Learning Champions: Sara Schulz
June 8, 2020
Teaching & Learning Champions are faculty & staff who contribute to student learning (Guided Pathways Essential Practice #4). We share their stories to celebrate their dedication to instructional excellence & innovation in a series of spotlight articles. #ACCExcellence
---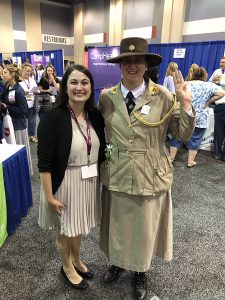 Meet Sara Schulz, TLED's Instructional Technology Coordinator!
Tell us a little bit about what you do!
In addition to providing logistical project support for the TLED Instructional Technology team, I will be focusing on ensuring College-wide projects led by our area are moving forward, including the increased adoption of our Adobe Creative Campus designation, iPads in the Classroom, and Faculty Fellowships on integrating technology in the curriculum.
Three words that best describe you?
Optimistic, practical, enthusiastic.
Share about your educational background.
I have a B.A. in English with a focus in folklore and women's studies from the University of Louisiana at Lafayette (Geaux Ragin' Cajuns!). Folklore is all about documentation and presenting information in an accessible way so I think folklore and project management make perfect sense!
Where did you grow up?
I grew up in rural south Louisiana (Evangeline Parish, near Ville Platte and Mamou to be specific). It was sort of magical and sort of heartbreaking in the way that a small rural place can be.
What book would you recommend that everyone read?
Anything by Brené Brown, but my first was "Gifts of Imperfection." Her research on shame, vulnerability, and living a whole-hearted life was revelatory at a critical time in my life and she continues to provide so much to think about through her teachings. One of my favorite quotes from one of her talks is "Today, I choose courage over comfort."
What kinds of hobbies and interests do you have outside of work?
Reading, cooking food, talking about food, and eating, sewing, Girl Scout troop leading, going to musicals with my friends, spending time outside with my family.
Connect with Sara via email: sara.schulz@austincc.edu
---
Recommend a Colleague:
Do you know someone who is a champion of teaching & learning? Send their name & why you're nominating them to TLEDcomms@austincc.edu.