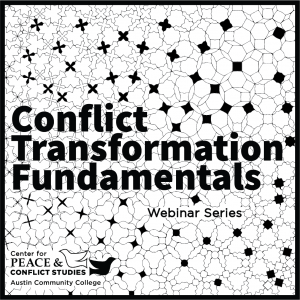 Practical Strategies for Addressing Conflict in our Everyday Lives
May 22, 2020
Update: June 8, 2020 – ALL SESSIONS FULL!
Thank you to everyone for the enthusiastic interest in our webinar series. We at the Center for Peace & Conflict Studies are greatly encouraged by the high demand for this content. That said, we are unfortunately not in a position to offer additional sessions this summer, nor can we commit to recording and sharing these sessions owing to the intimate nature of the conversations our trainings elicit from participants. Providing this training online is a new undertaking for our facilitators and we expect to learn a lot from this experience. Once we get through this initial pilot series we intend to spend time reflecting on ways to potentially scale participation in the future. Please bear with us as we work on building our capacity to meet your needs and interest.
---
A 5-part Webinar series offered by the Center for Peace & Conflict Studies at Austin Community College
Recent changes in our normal modes of living and working have stretched our normal resources for dealing with stress. This overload has in turn contributed to a rise in conflict.
The Center for Peace & Conflict Studies invites the ACC community to join us for a webinar series as we discuss conflict within a framework of justice and an understanding of power imbalances, help you gain self-knowledge, and practice essential skills for dealing with conflict.
The webinar series will actively engage participants via real-time exercises, cohort processing (such as pair & share, group share), and provide opportunities for sustained engagement via a moderated community blog hosted on ACC's Center for Peace & Conflicts Studies website.
What to Expect
Five biweekly webinars (you may register for one or more sessions)
1.5 hours of PD credit for each session,
Each session is limited to 20 registrants
Co-facilitated by Charlotte Gullick, Shirin Khosropour, and Grant Potts,
Opportunities for sustained engagement via a moderated community blog hosted on the PACS website.
Dates & Topics
Thursday, June 11, 1:00 – 2:15 PM
Session 1 Role of Conflict in Relationships and Basic Human Needs
Examine the role of conflict in relationships from intrapersonal to intergroup
Define basic human needs and how they contribute to conflict
Define power imbalances and how they contribute to conflict
Thursday, June 25, 1:00 – 2:15 PM
Session 2 Role of Emotions and Culture in Conflict
Identify emotions that signal conflict
Examine the starring role of anger in conflict
Discuss the role of culture in conflict (ex. individualism and collectivism with self assessment)
Thursday, July 2, 1:00 – 2:15 PM
Session 3 Role of Personal Conflict Styles 
Define conflict styles
Classify your own conflict style
Relate conflict styles to conflict transformation
Thursday, July 16, 1:00 – 2:15 PM
Session 4 Effective Communication
Demonstrate

The role of "perception checking" in conflicts, and
The effective use of "I" messages and questions

Relate power imbalances to communication
Contrast face-to-face vs. online communication
Thursday, July 30, 1:00 – 2:15 PM
Session 5 Problem Solving 
Examine the differences between positions and interests
Demonstrate the influence of personal narratives in negotiations
Generate best case/worst case alternatives for a collaborative negotiated agreement