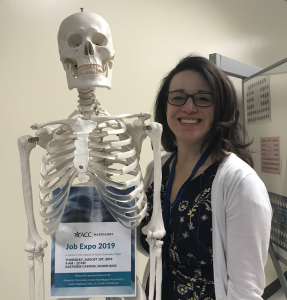 Teaching & Learning Champions: Angela Hadlock
February 7, 2020
Teaching & Learning Champions are faculty & staff who contribute to student learning (Guided Pathways Essential Practice #4). We share their stories to celebrate their dedication to instructional excellence & innovation in a series of spotlight articles. #ACCExcellence
---
Meet Angela Hadlock, Assistant Professor in Radiology at the Round Rock Campus!
I love working at ACC because not only did I graduate from ACC but I work with a great team of fellow educators. I see myself as coming full circle with my education and now have the opportunity to teach students and share my knowledge. The experience is very rewarding.
Tell us a little bit about what you do!
I help prepare students for a career as a Radiologic Technologist. The courses I teach include Radiographic Positioning (how to position a patient and equipment for an x-ray exam), Radiographic Pathology (what diseases look like on X-ray, CT, and MRI images), and Advanced Medical Imaging (exploration of other imaging modalities such as CT, MRI, IR/CI). I also visit students during their clinical rotation at various hospitals and clinics in the Austin metro area. Special projects I've worked on include creating a Lab Protocols App for your mobile device and coordinating a Career Fair for our second-year students.
Three words that best describe you?
Creative, dedicated, organized
Do you have a motto or mantra or personal philosophy?
"Do the best you can until you know better. Then when you know better, do better." -Maya Angelou
This quote resonates with me as I'm relatively new to teaching. I may not have all of the answers but I'm going to do the best that I can for my students. When I learn about a new technique or activity I am always motivated to try it.
What kinds of hobbies and interests do you have outside of work?
I'm a huge sports fan and really enjoy watching football. My favorite team is the Dallas Cowboys and I'm hoping next season will be our year! I also like creating things such as crafts, shirts, and home decor items. Additionally, I like to travel and recently spent time in Banff, Canada.
If you could take any ACC class, what would you take?
Technology continues to play an ever-increasing role in the classroom. To take advantage of this I would really like to take courses on animation, motion graphics, and creating immersive virtual reality environments.
What is one thing you think every ACC professor should do in their classroom?
Try something new every semester. This could be a new way of delivering content, new technology, or new assignments/assessment.
Connect with Angela via email: angela.hadlock@austincc.edu
---
Recommend a Colleague:
Do you know someone who is a champion of teaching & learning? Send their name & why you're nominating them to TLEDcomms@austincc.edu.