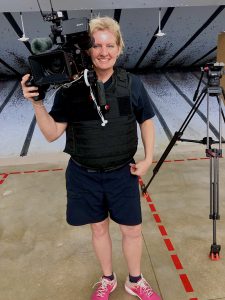 Teaching & Learning Champions: Melissa Griffith
January 23, 2020
Teaching & Learning Champions are faculty & staff who contribute to student learning  (Guided Pathways Essential Practice #4). We share their stories to celebrate their dedication to instructional excellence & innovation in a series of spotlight articles. #ACCExcellence
---
Meet Melissa Griffith, TLED's Instructional Media Video Producer!
Tell us a little bit about what you do!
I shoot, edit, and voice media content for ACC instructional videos. Our clients include ACC faculty, staff, students, and community partners.
Three words that best describe you?
Steadfast, genuine, observant.
How do you support faculty at ACC?
TLED Instructional Media supports faculty with alternative, non-traditional, instructional learning techniques. We offer video storytelling, interactive animation, audio/video podcast, basic how-to instruction, graphic design, along with non-instructional special projects. Projects follow a structured intake process with pre-production protocol including content script writing, scheduling, talent auditions, and location scouting. Following the intake and pre-production process, my role takes action in the production and post-production phases – transporting set equipment to/from field locations, audio, lighting, camera set prep, talent wrangling, and recording. Post-production includes content check, editing, voice-over work, copyright and closed captioning, graphic review, review, and release. Metrics and feedback are collected. It's important we deliver not just a product our client desires, but one the audience deserves, and can benefit from through instruction.
What kind of hobbies and interests do you have outside of work?
I enjoy traveling with my family. We are a fun and interesting group. Most of my close friends are soccer players. It is more than a beautiful game, it is a lifestyle. I enjoy outdoor, league, and tournament play.
If you could take any ACC class, what would you take? Why? 
I'd like to take Anatomy. I'm fascinated with muscles and tendons, bones, joints, and organs, and how they intertwine to help operate the most amazing machine created by God. Most great connections start internally.
What is something non-work related that you want to learn how to do?
I've always wanted to learn how to coach correctly. I'm an okay coach and a really great cheerleader, but only on the surface. I'd like to dig deep and know the science of coaching, not just the kinesiology but the physiology, the psychology, neurology. What is it that we are just not tapping into as humans? How much more capable are we? What is our ultimate organic potential and how can we reach beyond current limits manipulating strength, stamina, nutrition, sleep patterns, recovery, age, emotions. Endless branches to tap into that unused percentage.
Connect with Melissa Griffith via email: griffith@austincc.edu
---
Recommend a Colleague:
Do you know someone who is a champion of teaching & learning? Send their name & why you're nominating them to TLEDcomms@austincc.edu.