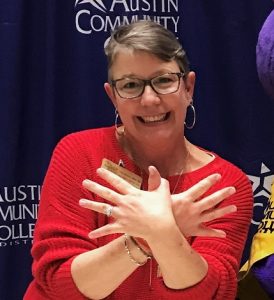 Teaching & Learning Champions: Amy Simons, MSN, RN
November 22, 2019
Teaching & Learning Champions are faculty & staff who contribute to student learning (Guided Pathways Essential Practice #4). We share their stories to celebrate their dedication to instructional excellence & innovation in a series of spotlight articles. #ACCExcellence
---
Meet Amy Simons, MSN, RN, Associate Professor & Assistant Department Chair of Professional Nursing!
Amy recently received the Elsevier Educator of the year award from the Organization for Associate Degree Nursing Foundation (OADN Foundation).
What courses do you teach? 
I teach the very first semester of courses for the professional nursing department associate degree nursing program.
What projects have you contributed to?
I developed Team Teal 101 which is an orientation for all incoming ADN students and families. They get to meet other students in their cohort, the faculty, and the program, college, and community resources that are vital to success. Food, fun, prizes!
Share about your educational background.
I am an ACC ADN program grad…1991. My masters in nursing education is from Gonzaga and I am currently pursuing a doctoral degree in nursing education from the University of Northern Colorado.
What is the best thing about your job?
The best thing about my job is sharing my passion for nursing with the students AND I get to see their proud families and HUGE smiles at their completion ceremony.
Do you have a motto or mantra or personal philosophy?
My life verse is Zephaniah 3:17. The Lord your God is with you, the Mighty Warrior who saves; He will take great delight in you; in his love he will no longer rebuke you, but
will rejoice over you with singing. The creator himself is well pleased with me and even sings over me! Knowing that, nothing else really matters.
What kinds of hobbies and interests do you have outside of work?
Outside of work, my hobbies and interests are my children and their activities. I also enjoy cooking, kayaking, and any activity that involves being with my family.
Three words that best describe you? 
Tenacious, joyful, passionate
Connect with Amy via email: amy.simons@austincc.edu
---
Recommend a Colleague:
Do you know someone who is a champion of teaching & learning? Send their name & why you're nominating them to TLEDcomms@austincc.edu.