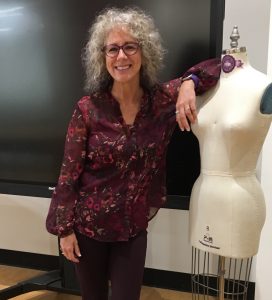 #newtoACC: Victoria Taylor
November 5, 2019
Our #newtoACC series welcomes new faculty to our Austin Community College Riverbat family.
Meet Victoria Taylor, ACC's new Fashion Design Department Chair!
What inspired you to apply to teach at Austin Community College?
The students at ACC are my inspiration. I've always enjoyed working with students who really want to learn. To see students who work hard at something until they have truly mastered the concept is so fulfilling. After helping develop the Continuing Education Fashion Design program, I realized that the ACC students had a place in my heart and I wanted to continue to work with them to help them achieve their goals.
Currently teaching?
This semester I teach flat pattern design and ready to wear construction. It's a lot of math, precise lines, and measurements and it is tremendous fun!  
As an instructor, how do you create a classroom culture that intentionally welcomes and supports students from different racial/ethnic and socio-economic backgrounds?
I start by working with each student individually to learn their strengths and provide guidance to where they need to work harder. I encourage them to get to know their new "cohort" and I have enjoyed watching the new friendships and support that has grown over this first semester. 
What do you geek out about?
I love random, obscure, fun, interesting and historical facts. 
What is the weirdest job you've ever had?  
I have worked for a local company that repairs band instruments. I learned how to repair clarinets, saxophones, and flutes. I cannot play any of them really well, but I can fix them!
What kinds of hobbies and interests do you have outside of work?
I love to garden and enjoy spending time outside working on projects. My husband and I are in the process of remodeling our fourth "fixer-upper", this time it is a whole-house project, while we are living in it. I love power tools and demo day! I enjoy the process of repairing something broken and making it new again. I also enjoy creating new designs that reflect our unique personalities and styles. 
Three words that best describe you?
I asked my current students to describe me, and they came up with: Quirky, encouraging, patient, positive, and understanding.
---
Welcome Victoria Taylor to ACC!
Post a comment below or email Victoria Taylor at victoria.taylor@austincc.edu.