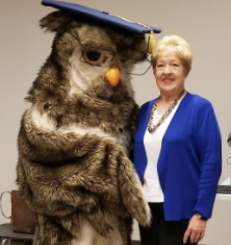 Teaching & Learning Champions: Dr. MaryJane McReynolds
October 10, 2019
Teaching & Learning Champions are faculty & staff who contribute to student learning (Guided Pathways Essential Practice #4). We share their stories to celebrate their dedication to instructional excellence & innovation in a series of spotlight articles. #ACCExcellence
---
Meet Dr. MaryJane McReynolds, TLED's Director of the Office of Articulation & University Relations
Tell us a little bit about what you do!
The Office of Articulation and University Relations is responsible for faculty-centered strategies and initiatives that focus on expanding and enhancing university partnerships and transfer opportunities for ACC students. This is demonstrated by creating and revising articulation agreements that are degree-specific and which focus on complete course applicability. Positive faculty engagement and collaboration results from individualized university partnership initiatives and activities, to create reciprocal and persistent faculty-to-faculty dialogue regarding curricular alignments and improved transfer pathways.
Three words that best describe you?
Persistent, thorough, steadfast
How do you support faculty at ACC? Why is this work important?
I engage faculty, deans and department chairs in one-on-one discussions regarding how their specific courses and degree programs align with bachelor's degree requirements of ACC's various university partners.
How do you make learning fun and creative for students?
One of the ways I make learning fun and creative for students in my Anthropology classes is that at the end of the term we have a 'Cultures of the World' potluck. Students must bring a food that represents their own culture, and they must prepare a brief statement about what the dish is and how it is representative of their own culture. Students who may claim they have no culture are not allowed to bring American junk food!
Where did you grow up? What was it like?
I grew up on the family ranch outside of a small town in Central Texas. Growing up in a rural area where everyone knew everyone else, was an incredibly safe and nurturing environment. I went to school and church with pretty much the same people so that any transgression was soon known by all, including my parents. The school was small, which meant a lot of individualized attention. I didn't come to fully appreciate that advantage until I transferred from my community college to UT Austin and was faced with near-anonymous faculty and almost-as-anonymous teaching assistants in classes with over 300 students.
What kinds of hobbies and interests do you have outside of work?
I am an avid gardener and spend as much time as possible outside tending to plants, planning for next spring and trying to get ahead of the weeds, which is never-ending. I love growing things and learning about new plants that can tolerate our climate.
Connect with Dr. McReynolds via email: mcreyno@austincc.edu
---
Recommend a Colleague:
Do you know someone who is a champion of teaching & learning? Send their name & why you're nominating them to TLEDcomms@austincc.edu.