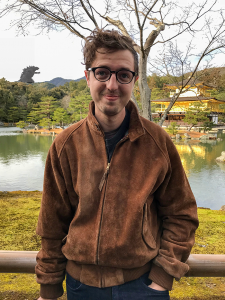 Teaching & Learning Champions: Robert Foster
August 21, 2019
Teaching & Learning Champions are faculty & staff who contribute to student learning  (Guided Pathways Essential Practice #4). We share their stories to celebrate their dedication to instructional excellence & innovation in a series of spotlight articles. #ACCExcellence
---
Meet Robert Foster, Front End Developer at the Highland Business Center
Tell us a little bit about what you do!
I build websites for TLED, academic departments, and instructional programs at ACC. I specialize in making sure the sites are accessible to all users regardless of vision, hearing, or mobility differences.
Three words that best describe you?
Affable, nerd, biker
How do you support faculty at ACC? Why is this work important?
Education is increasingly online and many students and faculty rely on ACC websites for information and interaction. I help make sure that this piece of the education infrastructure is working and accessible to all students.
What is the best advice you ever received?
If the meeting starts at 10 AM and you arrive at 10 AM you are late. Show respect for other people's time and the team by showing up on time.
How do you keep up-to-date in your field?
Lynda.com, now known as LinkedIn Learning, is a great resource that is filled with thousands of courses. I take a course at least once a month, sometimes even in my free time if it is not work-related. It is really a great resource for so many topics. Additionally, there are daily newsletters on any topic that you can sign up for for a daily dose of information. I subscribe to newsletters on topics from web design to the Open Educational Resources (OER) movement.
(Note from the editor: LinkedIn Learning accounts are available free to all full-time ACC employees.)
Why are you proud to work at ACC?
Growing up in Austin, many of my friends and my sister went to ACC at some point or another. I know how much the college has helped them out and how it plays an important role in our public education system. I am proud to support the mission and provide high-quality low cost higher education to our wonderful city. Also, I am proud that our mascot could totally take down UT's. A swarm of Riverbats versus a cow with ornamental horns? Not even a question.
Connect with Robert via email: robert.foster@austincc.edu
---
Recommend a Colleague:
Do you know someone who is a champion of teaching & learning? Send their name & why you're nominating them to TLEDcomms@austincc.edu.