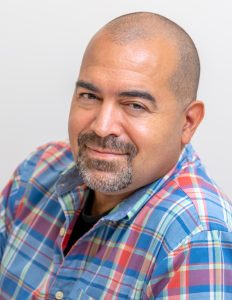 Teaching & Learning Champions: JT Tyler
August 16, 2019
Teaching & Learning Champions are faculty & staff who contribute to student learning (Guided Pathways Essential Practice #4). We share their stories to celebrate their dedication to instructional excellence & innovation in a series of spotlight articles. #ACCExcellence
---
Meet JT Tyler, Faculty Instructional Support Specialist at Highland Campus
Tell us a little bit about what you do!
My job is essentially that of a media technology specialist honed to help faculty. It ranges from classroom technical support to video production to helping faculty with Blackboard to many other things. We support ACC faculty and staff with media and instructional technology services.
Three words that best describe you?
Happy, alert, responsible
How do you support faculty at ACC? Why is this work important?
Our faculty and students are extremely busy and it is important that they have access to all the technical and instructional capabilities they need to successfully enable learning.  I support faculty by making sure their classrooms work.  Our office is the go-to place for faculty instructional technology support.  I help faculty with web conferencing, lecture capture, Blackboard, production requests, as well as other creative solutions and technology support.
What is the best thing about your job?
Probably the best thing is getting called to the classroom by stressed-out faculty to solve technical issues and solving the issues quickly – resulting in happy faculty and students.
Why are you proud to work at ACC?
I am proud to work at ACC because we work for the community as public servants helping students learn and grow. Often I have been called into a class to assist faculty and gotten to hear a little of the class in session and thought, "Wow, this class is really great."
What is something non-work related that you want to learn how to do?
Sail a 64ft Catamaran around the world – maybe not so much around Cape Horn, but more in the Caribbean.
Connect with JT via email: jamarl.tyler@austincc.edu
---
Recommend a Colleague:
Do you know someone who is a champion of teaching & learning? Send their name & why you're nominating them to TLEDcomms@austincc.edu.