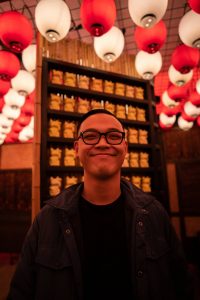 Teaching & Learning Champions: Stanley Thai
August 7, 2019
Teaching & Learning Champions is a series of spotlight articles about faculty & staff who contribute to student learning (Guided Pathways Essential Practice #4). We share their stories to celebrate their dedication to instructional excellence & innovation. #ACCExcellence
---
Meet Stanley Thai, Faculty Instructional Support Specialist (FISS) at the Highland Campus
Tell us a little bit about what you do!
I provide daily general classroom support, as well as assistance and training in the Faculty Resource Center as a part of the Teaching & Learning Excellence Division (TLED).
Three words that best describe you?
Organized, intelligent, empathetic
How do you support faculty at ACC? Why is this work important?
I'm the first point of contact faculty come to when they're needing assistance with a tech issue in their classrooms, which is important so they can continue with their classes.
What kinds of hobbies and interests do you have outside of work?
I'm very much into movies/tv-shows and, very recently, board gaming and bouldering. With film/tv, I love being transported into another world and in someone's shoes, where you know their hopes, dreams, and fears. Boardgaming and bouldering are new hobbies of mine, and they're a lot of fun and provide a needed excitement into my daily life.
If you could take any ACC class, what would you take? Why?
I would take a culinary class because I want to learn how to cook better, improve techniques, experiment with flavor profiles, and I just have an overall love for food.
Why are you proud to work at ACC?
As someone who strives for equality, I love how ACC has a diverse student population and access to education is more affordable than other colleges.
Connect with Stanley via email: stanley.thai@austincc.edu
---
Recommend a Colleague:
Do you know someone who is a champion of teaching & learning? Send their name & why you're nominating them to TLEDcomms@austincc.edu.